Screenwriter & Novelist
Suzanne Allain
Suzanne adapted her novel Mr. Malcolm's List into a screenplay and it was made into a movie starring Freida Pinto, Theo James, Sope Dirisu, Zawe Ashton and Oliver Jackson Cohen. It's now available on every major rent-on-demand streaming service. 
Her next novel, The Ladies Rewrite the Rules, is coming January 9, 2024 and is available for preorder at the links below.
Mr. Malcolm's List
available now
It is a truth universally acknowledged that an arrogant bachelor insistent on a wife who meets the strictest of requirements–deserves his comeuppance.
The Honorable Jeremy Malcolm is searching for a wife, but not just any wife. He's determined to elude the fortune hunters and find a near-perfect woman, one who will meet the qualifications on his well-crafted list. But after years of searching, he's beginning to despair of finding this paragon. And then Selina Dalton arrives in town…
Selina, a vicar's daughter of limited means and a stranger to high society, is thrilled when her friend Julia invites her to London.  Until she learns it's part of a plot to exact revenge on Mr. Malcolm. Selina is reluctant to participate in Julia's scheme, especially after meeting the irresistible Mr. Malcolm, who seems very different from the arrogant scoundrel of Julia's description.
But when Mr. Malcolm begins judging Selina against his unattainable standards, Selina decides that she has qualifications of her own. And if he is to meet them he must reveal the real man behind…Mr. Malcolm's List.
Miss Lattimore's Letter
Available now
The woman who never made a match of her own is making matches for everyone else in this hilarious comedy of manners from the author of Mr. Malcolm's List.
Sophronia Lattimore had her romantic dreams destroyed years ago and is resigned to her role as chaperone for her cousin. Still, she cannot sit idly by when she becomes aware that a gentleman is about to propose to the wrong woman. She sends him an anonymous letter that is soon the talk of the town, particularly when her advice proves to be correct. Her identity is discovered and Sophie, formerly a wallflower, becomes sought after for her "expert" matchmaking skills. 
One person who seeks her out is the eligible and attractive Sir Edmund Winslow.  As Sophie assists Sir Edmund in his pursuit of a wife, she wishes she could recommend herself as his bride. However, she vows to remain professional and uninvolved while aiding him in his search (especially since the gentleman surely does not return her affections).
Three unexpected arrivals soon show up at Sophie's door–the man who once broke her heart, a newlywed who is dissatisfied with the match Sophie made for her, and the man madly in love with Sophie's cousin–all wanting her attention. But when her onetime beau and Sir Edmund both appear to be interested in her, Sophie can't figure out if she's headed for another broken heart­­ or for the altar. How can she be expected to help other people sort out their romantic lives when her own is such a disaster?
The Ladies Rewrite the Rules
Available for pre-order now
From the author of Mr. Malcolm's List comes a delightful romantic comedy set in Regency England about a widow who takes high society by storm.
Diana Boyle has no desire to ever marry again, particularly not to someone who merely wants her for her fortune. 
So when she discovers that she's listed in a directory of rich, single women she is furious, and rightly so. She confronts Maxwell Dean, the man who published the Bachelor's Directory, and is horrified to find he is far more attractive than his actions have led her to expect. However, Diana is unmoved by Max's explanation that he authored the list to assist younger sons like himself who cannot afford to marry unless it's to a woman of means. 
She gathers the ladies in the directory together to inform them of its existence, so they may circumvent fortune hunters' efforts to trick them into marriage. Though outraged, the women decide to embrace their unique position of power and reverse the usual gender roles by making the men dance to their tune. And together…the ladies rewrite the rules.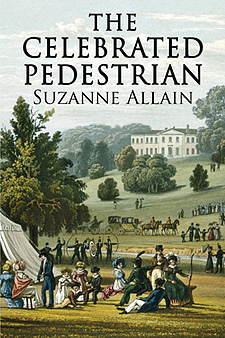 The Celebrated Pedestrian
Faith Wentworth's father is a renowned sportsman and national celebrity, but Faith wants to be admired for her own virtues, not her father's exploits. So when Sir Anthony and Lord Frederick begin to pay her marked attentions she's suspicious of their motives.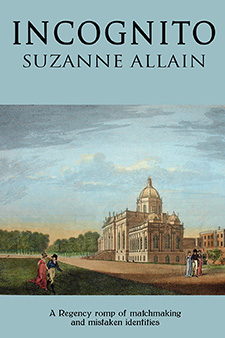 Incognito
Can a young lady allow her beloved sister to be sacrificed on the marriage altar? Emily Smithfield cannot. So when her mother announces that a marriage has been arranged between Emily's older sister Lydia and a man she has never met, Emily offers to marry the gentleman in her sister's stead.